Fifteen years ago, some of KHEL's teachers and managers of today volunteered as laborers, carrying bricks and fetching water with their own hands to help build what is now Lakshmi Devi Academy (LDA). At LDA we provide a healthy, safe and nurturing academic environment from kindergarten through 5th grade. Our school offers a Government-recognized course curriculum of basic education, with state-regulated yearly exams. Our kids also have cultural electives such as Sanskrit, traditional folk dance and yoga. We offer aid for book and uniform costs as well as providing monthly distribution of dry rations (milk powder, rice, beans) for all students and their families. Children from impoverished households can start working at a very young age. KHEL gives families the help they need to keep kids off the streets, out of the sweatshops and in school where they belong.
After our kids graduate from LDA, they are able to apply for admission to other schools and continue their education. We assist them in getting admitted, since often the parents don't know how to do this and are too embarrassed by their poverty to present themselves at a new school. KHEL continues to fund LDA graduates and provide support, advice and career counseling through their high school and college years. The tenth grade final exams in India are very difficult to pass, but we are pleased to report that our passing rate is higher than the overall passing rate for the state of UttarAnchal! We are proud to have helped students, born in slums, who have persevered, all the way to a Masters' level of education.
By keeping in touch with our students throughout their growing up years, we develop a pool of young people who understand what KHEL is about, who grew up in our community and who need jobs. Before looking outside of KHEL for teachers and other employee needs, we first look at the young people we have educated. As they work for us, we continue to support and educate them with loans, medical aid, and further studies such as computer training, teaching certificates or more college education. KHEL provides continuous, on the job and specialized training for senior staff in the areas of fund raising, long term planning and management.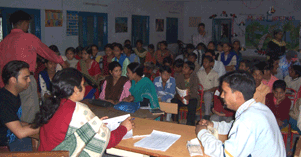 Scholarship students meet regularly with KHEL staff
There is no substitute for the self-esteem found in being able to support oneself, especially for the young women we work with. Education affects a holistic improvement, for individuals and the larger community. Indian women face many cultural challenges. Only one generation ago, most women were illiterate, malnourished and uneducated about basic health and hygiene. Marriage, and thus repeated childbearing, began at a very early age, putting dangerous stress on their young bodies and adding to overpopulation problems. Infant mortality and complications for women after childbirth were high. Most lacked the resources or confidence to take part in decisions that affected their lives, and felt they had no recourse to deal with abuse in the home. We have seen drastic improvement to women's situations after just one generation of college graduates. When young women go on to college, in addition to gaining an education, they are broadening their horizons, learning self-confidence and waiting later to consider marriage. With education, girls are not only gaining academic knowledge; they have acquired necessary information about health, nutrition and family planning. Marriage happens in the late twenties, so their bodies and minds are mature enough for child bearing and rearing. Perhaps most importantly, these young women have gained a sense of their own worth and have the confidence to make their own decisions, and stand up for themselves if they need to.