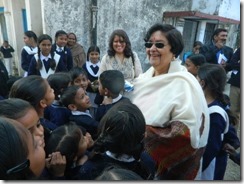 An initiative of Dhyana Mandiram Trust, Swami Rama Sadhaka Grama, Rishikesh, an Adolescent Resource Centre has been established at Lakshmi Devi Academy (LDA), KHEL's school for underserved youth in Dehradun. Initially, programming will focus on LDA's 6-8th class students, with plans to expand services to more children at the school and in the community.
The ages of 12-19 are a crucial developmental period in a child's life. About 10% of the population of Uttarakhand, where Dehradun is located, is in this age group. In recent years has India has recognised the tremendous impact of good physical, mental and emotional health on its youth. This 800 hour programme offered by ARC to LDA and its community addresses many of the challenges faced by our youth. Two wonderful young women, Ankita and Karishma, came to LDA to ask the students questions about their lives. This information will be used to tailor the programme to address the specific needs of this community.
The ARC programme will cover the overall development of adolescents and will focus on health concerns – but not just physical health. The emotional health of a growing young person is equally important. ARC's aims are to convey critical information needed at this time of life, reinforce healthy attitudes and behaviours regarding health, hygiene and interpersonal relationships, address a range of questions from reproductive health to career planning, and enhance the emotional health and internal development of adolescents. The tools used for this programme appeal to today's youth – interactive games, participative activities, videos and other formats to hold their interest.
ARC's overarching goal is to prepare tomorrow's leaders for the challenges they will face. An integrated, holistic model of change will be implemented that focuses on sensitising youth through innovative interventions that embrace gender equality and enhance self esteem through self reliance.
The ages of 12 to 19 years are critical for changes affecting physical, mental and emotional maturity. We want to provide the best possible tools to the children of Uttarakhand, so that in the future they have the skills to make healthy decisions for themselves and their families.