Report on Construction at Lakshmi Devi Academy
A Project of KHEL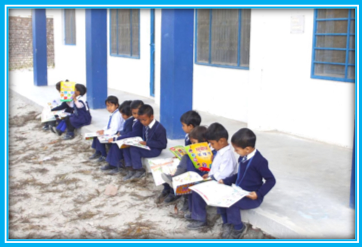 Total Cost for Stage One of LDA construction project: INR28,00,000 (USD40,000/€35,000)
After more than three years of planning, construction work at Lakshmi Devi Academy (LDA), KHEL's school for underserved children in Dehradun, India, began in March 2017. The reason we are releasing this report now is that we wanted to see how well the construction worked for our kids. It takes some time to understand crowd flow and movement, and what we've learned this past year will impact future construction. In India, it's normal to wait through a monsoon season to see how construction holds up. Overall, this construction has performed admirably and has met our expectations.
We invited the community and some of our students to a ground-breaking ceremony. Representing KHEL were Co-Founder Lalita Arya (fondly known as Ammaji), Executive Director Stomya Arya Persaud, Board Member Mr. Ahluwalia, and Beni Bhatt, KHEL's General Manager. Of course, all of KHEL's staff and teachers joined us. From Dhyana Mandiram Trust (DMT), which funded a large portion of this effort, we welcomed Tejas Chandaria, Narinder Pushkarna and Dr. Upreti. Also present were City Councillor Kamli Bhatt, and members of LDA's Volleyball team. In addition, we were happy to welcome both of our contractors, Jakir Ansari and Rajender Chauhan, and Mr. Maindola, our architect.
KHEL serves a diverse community. In keeping with our policy of inclusion, we asked representatives from the 4 major religions of our community to take part in the ground-breaking ceremony. Ammaji began the proceedings with a prayer and blessing. Pandit Harshanand performed a short Hindu ceremony, Iliyaas Ansari gave a Muslim blessing, Mr. Ahluwalia said a Sikh prayer and Prakash Goel offered a Christian prayer. Our 7th class students, teachers and other community members helped lay the foundation stone. Tajbir, the father of one of our students, cooked a delicious meal on site for everyone.
The aim of this construction was to add a two-level open walkway, a sloped roof and an office, and to extend the flat roof so that it would cover the open walkway. LDA was built in 1988 for a student body of 150, serving Kindergarten to 5th class. We're now a Preschool-8th class facility with 300 students, and every year we have more applicants. As the community continues to change and grow, we anticipate the need for more space over the years. There are also government regulations that require we upgrade some of our facilities, such as the bathrooms.
When we started exploring the idea of major construction at LDA, we made the decision that the playing field was too important to the kids and community for us to make it smaller, so we chose to build up rather than out. The overall plan was to add open walkways along the back of the building. This gives an additional method of egress in case of emergencies and provides the beginnings of access to other expansions we hope to do at a later date. We also added a sloped roof above the current flat roof to protect the building long term from monsoon rain. The sloped roof was placed at a height that will allow us eventually to add another floor of classrooms, or other spaces such as a computer lab, science lab, library, and space for vocational training for young adults in the community who do not have the opportunity to attend high school or college. This includes many of our own students.
Over the more than three years of planning, there was much discussion regarding the design. Architectural plans were made and rejected, redesigned, outside advice was sought from a variety of sources, legal issues were resolved, budgets were developed, and funding was acquired. Finally, contracts were negotiated and signed, and initial payments were made so that Rajender and Jakir could purchase supplies to begin working. Rajender, Jakir, Mr. Maindola and Mr. Kumar (the engineer) helped us plan the phases of construction.
Before we could actually build anything, we prepped the school. Our teachers and other staff talked through the challenges of having kids on site during construction. We moved some of the classrooms to other areas of the building, cordoned off the back of the building so the kids would not be in danger from construction equipment, and provided a lockable room for the contractors to store material. We informed the community about the upcoming work to be done and talked to the kids about safety issues. Then we got to work.
First, we had to get rid of cement overhangs that were in the way of where we wanted to build the walkways. This is dangerous work entailing jackhammers and falling cement, so we were careful to do this when the kids were not in school. Some of the cement was broken down into small pieces to use as rock filler during other parts of construction.
Holes were then dug for the pillars that were to be laid for the outer walkways that would span the length of the building on the ground and first floors. The demarcations were done by Mr. Maindola and Mr. Kumar, to make sure the building would be stable. There are actually two sets of pillars – one set against the wall of the building and the other set 5 feet out. This layout allows for more support during earth tremors. The process began with on-site construction of iron trestles, progressed with the build of a pyramid shaped mound of cement around the base of each trestle (this also helps with support during tremors), continued with gravel and a cement pour to fill the holes, and concluded with bricking and filling the trestles with cement.  While we waited a week for the cement in the trestles to set, we prepped for the next phase.
The walkways connect one side of the building to the back of the building, and especially on the first floor enhance the flow of 300 children from one classroom to another, and to the school grounds. The walkway on the ground floor was built first. Iron rebar, bricks and gravel were laid then cemented. The first-floor walkway was then constructed. Above these two walkways, the old roof was extended to make a ceiling for the first-floor walkway (eventually, when we're able to add classrooms on the old flat roof, that extension will be the walkway for the second floor).
A new office was added on the ground floor, and we opted to have an open veranda on the first floor above it. As we dug holes and did other work, we'd found a few issues that needed to be addressed. We replaced some doors and added a few others for security. We upgraded the drain lines to the city pipes and added water lines in anticipation of eventually having city water access.
During the next step, we had both construction crews working at the same time. While the first crew did the finishing cement on the new structures, the second crew began building the iron scaffolding that would be the bones of the new, sloped, roof. After the girders were securely attached to the old roof and the new pillar supports, a tin shed roof was added. Tin sheds are a standard method of adding a sloped roof to an existing building. They last long, and are water proof and light weight. The pillars for the walkways were designed to be load bearing, further distributing the weight of the new roof.
And then the monsoon rains began, a little earlier than we had anticipated but the bulk of the work was done.  We did lose some construction sand (for mixing cement) which was washed away. Fortunately, it was easy to replace.
Under cover of the new roof, electricians updated the electrical systems, the new cement construction was whitewashed, and the iron grills for the first-floor walkway were added in the window spaces, making it safe for our kids. When the monsoons finished, sections of the building were whitewashed, and the iron work was painted to protect it from the elements.
As we completed the construction, the Education Office issued new, mandatory, security regulations for schools. These requirements included fire extinguishers on all floors, CCTV and monitors, and electrical backup for the CCTV since the electricity doesn't work all the time. We hired a full-time night guard since this kind of security equipment is very easy to steal and re-sell.
Future Projects
Wish List
LDA was built to last but is outdated. Some portions of the building are unusable, others no longer fulfil government requirements, we have many more students than the school was originally intended for, we don't have some necessary furniture and fixtures, and we lack the space to expand or add modern facilities such as a computer center. To bring LDA up to standard, we need about INR94,75,000 (USD131,720/€116,490). This construction can be completed over several years:
Tear down unusable portion of LDA building. Replace with indoor bathrooms, drinking water facilities, and additional classrooms. Extend tin shed roof to cover new construction. This can be done in two stages: INR40,00,000 (USD55,600/€49,180)
Turn flat roof into classrooms to provide space for a library, computer and science labs, classrooms, or space vocational classes for young adults: INR 16,00,000 (USD22,240/€19,670)
Restructure some existing classrooms, replace existing wooden windows and doors for security reasons and termites: INR7,00,000 (USD9,730/€8,600)
Increase height of boundary wall and replace rear entry gate to enhance security:
INR16,20,000 (USD22,520/€19,920)
Computer lab, PA system, other IT needs, security for computer lab: INR3,00,000 (USD4,170/€3,690)
Furniture including fixtures such as white boards: INR4,25,000 (USD5,900/€5,230)
Repair some outside walls and paint building: INR3,00,000 (USD4,170/€3,690)
Replace guard house and front gate, build bridge over outside drainage into LDA grounds: INR2,00,000 (USD2,780/€2,460)
Miscellaneous repairs: INR3,30,000 (USD4,590/€4,060)
We are very pleased to have completed Stage One of LDA's construction. With your help, we look forward to future upgrades so that LDA can continue to serve the KHEL community for many more decades.
Thank you to everyone who contributed to the success of this construction project. We couldn't have done it without our dedicated staff, the community, Dhyana Mandiram Trust and other generous friends of KHEL, and the professionals who helped us with planning and execution. Together, we offer hope to the kids of KHEL.