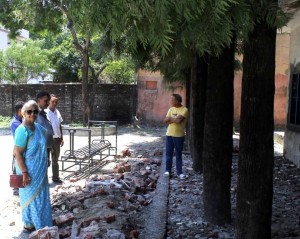 Every year, we work to improve the building and grounds at Lakshmi Devi Academy (LDA), KHEL's school for underserved children in Dehradun, India. LDA was originally built in 1988 for 150 children, kindergarten through 5th class. Now, we're a preschool-8th class facility that supports 300 children and adolescents. In 2019, we completed several projects in preparation for more complex construction projects over the next few years.
One of our construction projects was not optional. The Education Department informed us that several of our classrooms were not fire code compliant. We added 5 emergency exit doors, making our school much safer for our kids. Four of the new doors open directly onto our playing field which floods during the monsoons. To keep the classrooms dry, we graded the ground away from the building, adding a cement skirt. Buried under the far edge of the cement skirt is an impermeable, 2 foot deep wall, to prevent monsoon rains from creeping under the cement skirt and damaging the foundation and floor of the building. In addition, we built seating around the trees that flank the side of the building with the majority of new doors, adding not only outdoor seating for our kids but a second barrier against flood waters. The edge of the cement skirt facing our main gate also has a low wall, providing more seating and a final barrier to flood waters.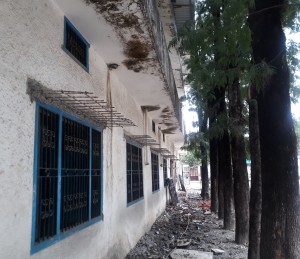 Three of the classrooms that needed new doors were very small. Since we had to take out portions of the outside wall and do other demolition for the new doors, we (finally!) fulfilled a years-old request from our teachers to convert these three very small classrooms into two larger ones, to accommodate our older students. The cost was about the same as adding the additional door that would have been required if we'd left the three small classrooms as they were.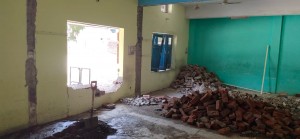 The road outside LDA was recently dug down to stop flood waters from pouring off the road surface into the neighbourhood, by the local council. This exposed the foundation of our boundary wall, making it dangerously unstable. We rebuilt the base of our wall, protecting it from the open drain that runs along it. We also rebuilt the small ramp that goes over the open drain, so that our kids could safely get to school.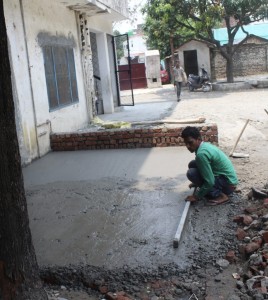 During the monsoons, anyone coming to LDA is forced to leave their motorcycles and scooters out in the rain. Sometimes, the motors get waterlogged and LDA staff can't leave at the end of the school day. We built a tin shed where they can park their motorbikes.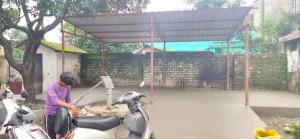 Our construction doesn't just benefit our kids and staff. By working with Rajender and Zakir, our two contractors both of whom were students at LDA, we fulfil another part of KHEL's mission – to support local businesses. We want our kids to have the option to stay in their community when they grow up; if there are no jobs, they are forced to leave. Our grounds are used by so many people. From the local villagers who collect the Neem leaves that fall from our trees, to the government that conducts health clinics and uses our grounds as a polling station, to the kids who practice their volleyball every day, KHEL serves the community, in so many ways. Keeping our building and grounds safe for our kids and community is of paramount importance to us.
Thank you to the generous donor who provided funding for these necessary improvements at LDA!
With a 300 student population and an aging building, we are constantly in need of minor and major construction. Some of these projects are required by law, some are necessary for the safety of the kids, and others are designed to enhance the school grounds and building, always with the aim of providing better resources to LDA's children, their families, and the community.
Our bathrooms are dangerously out of date, and currently do not meet the Education Department's requirements. The bathrooms were built at a time when it was normal to situate toilets separately from a building, and ours were constructed for fewer children – back then, LDA only served about 100 kids, and now we have 300. We'll be building a new addition to the ground floor to accommodate new, safer, bathrooms that are up to code. We will complete this project in three stages (costs are approximate):
Ground floor structure/plumbing/electricals: USD15,000/Euro13,000;
Fixed items (doors, windows, etc): USD3,500/Euro3,000;
Bathroom fixtures: USD2,500/Euro2,200.
One of our boundary walls needs a lot of work. During monsoons, the homeowners on the other side of that wall knock bricks out of the base of the wall so that water will drain into LDA's grounds. This isn't safe or healthy for our kids, and it damages the integrity of the wall. To make this wall safer, and to help prevent flooding of our school grounds, we will be building out the base of the wall, turning it into seating for our kids – we don't have a dining hall so our kids usually sit on the ground outside to eat their lunch. We need to plaster the wall, too, to protect the bricks for the long term. Cost for this project is approximately USD3,900/Euro3,400.
Are you interested in supporting any of these or other construction projects at LDA? Email KHEL at info@khelcharities.org for more information!