The Indian education system is based on the old British colonial model of final exams determining the grade for the entire year. This is especially the case for our 5th and 8th class students whose final exam papers are set by the state. Our teachers must make sure our kids are proficient with the syllabus since any of it might be on the final exams. Since we don't know if the government will hold exams as they usually do in March, our aim is to prepare our students for all eventualities. LDA's teachers are well trained and have all the certifications required to teach in India, but nothing could have prepared them to teach during a pandemic.
The pandemic has complicated an already difficult situation for people who live on the borders of society, eking out a living or just barely making ends meet. Even before the pandemic, many of our kids didn't have a place to study at home, some don't have electricity, nutrition is poor, they're migrants and only with us for a short time, they can't afford books and other school supplies, and some of them work to help support their families. Now, in addition to remote learning, we're concerned about our poorer girls being married, with less food in the homes the girls' nutrition will be neglected in favour of their brothers and fathers, or that they're replacing their mothers as primary caretaker because many of the poorest mothers work – someone has to look after the little kids who aren't going to school. Some families opted to leave Dehradun and return to their villages and we don't know if they'll come back. So, we stay focused on the task at hand – preparing our teachers to help the kids we can help, and not just with academics; many of our families are teetering on the edge of staying committed to their kids' education and are dealing with multiple stressors such as hunger, lost jobs, inability to pay their rent, depression, anxiety, and other mental health issues. Our teachers are doing everything within their power to make sure our kids don't drop out by giving support to our kids and to their parents, too.

Teacher Asha N: 'We are gaining some good knowledge of computers through this training. It will help us in preparing homework, question papers, and assignments for students instead of writing everything by hand. It will help us once the school reopens, as we can help students learn new skills and teach them more creatively by sharing things on the internet. The good internet connection at LDA is really helpful. We're very grateful to KHEL for arranging computers and internet at school for us and for organising computer training.'
Early on in the pandemic, we were scrambling to figure out what to do (you can read our report here). We've resolved many of our short-term issues but due to the long-term nature of the situation, we have additional concerns.
One issue is that it's easy to avoid doing schoolwork when you're studying remotely. Kids all over the world are using ingenious methods to avoid school on platforms like Zoom (and sharing with each other how to do this!). Our kids only have phones (most of them, anyway) so we're hearing excuses like 'my father took the phone to work' or 'we didn't have internet today'. True or false? Probably some combination, since there are days when the one smart phone in the home will go to work with a parent (usually the father), and days when the internet doesn't work. To solve the challenge of kids being kids, as soon as it was possible for them to come to school to pick up and drop off homework, we established a schedule for that. We must limit how many people are at LDA at the same time, so this cycle takes about 10 days. We do this twice a month, with time in between for the kids to do the assigned homework and for teachers to write new lessons and check the previous homework. Questions are answered on the phone, except for kids who have no phones; they can have socially distanced meetings with teachers during pick up/drop off times. If they don't understand the homework while they're at home, they'll ask a neighboring student with a phone to please ask their teacher their questions. This sometimes leads to a comical game of 'telephone' as our phone kids try to help our no-phone kids, but they're doing the best they can in a challenging situation and we're proud of them for helping their less privileged classmates.
Parents complain that our teachers are giving the kids too much work. The amount of work the teachers are giving is the same as when the kids were in school, but it's too much for even the literate parents to manage and for the kids to do on their own. We may run into issues with this as we get closer to state run final exams and the 5th and 8th grade students realise they haven't covered the whole curriculum. For the moment we have cut back on how much schoolwork we're giving; we must be cognizant of the fact that everyone is under additional stress because of the ongoing pandemic, and that includes our kids. But this leaves our teachers in a difficult position – they have a curriculum they must teach before final exams.
In addition to these larger challenges, our teachers have day-to-day issues regarding how to teach in the ongoing situation. Sangita Gairola, a retired teacher of a prestigious school in Dehradun, has been a great support to our teachers. She has a network of D'dun based retired teachers who are eager to help with teacher training and other advice, but, as Sangita recently informed us, her team couldn't do any more training until our teachers had basic IT equipment.
Teacher Asha B: 'We're feeling very good to learn how to use computers. By learning this we will able to work with students by giving them easier to understand work. Learning this new skill will definitely help us in our future as we will be self-sufficient in doing our work online.'
Thanks to an unexpected donation from one of our Board members in India, and with laptops donated last year by our German friends, we now have 12 laptops. We recently set up an internet connection and sorted out other IT at LDA including a faster, commercial level printer because all the homework has to be printed as there are no workbooks available. Now that the laptops are online, our teachers are able to take part in further training and find innovative new ways to keep our kids engaged, not just during this pandemic but into the future. They're currently learning Microsoft Office and how to use the internet. Now they can write their lesson plans and create worksheets for the kids on a laptop rather than writing them by hand as they have been doing, and record keeping has become much faster. Some of our teachers aren't fluent in English. They're working through English language textbooks and once they've learned enough, they'll be able to go online to continue improving their English language skills. Several staff members who have better computer skills or are proficient in English are coaching their colleagues. Many of the teachers are coming into school daily to practice, while maintain social distance and wearing masks. Although the laptops were free, the IT accessories, upgrades, and security for the laptops cost INR60,000 (Euro689/USD817).
Teacher Shivani L: 'I am thankful to LDA because they have given us a chance to learn how to use computers. We're learning MS Word.  I love this job because they give us lots of opportunities!'
Our teachers are working hard every day to learn new ways to keep our kids engaged at home. There are issues we can't do anything about, and this isn't anyone's fault – we have amazing, dedicated teachers and support staff doing their utmost to help kids who are scared, confused, bored, and stressed. The parents who are able to have stepped up to help their kids. Not all parents can; many of them work full time, and some are illiterate or semi-literate. And of course, our kids are helping each other. If our kids learn nothing else during this pandemic, they have learned how to be kind.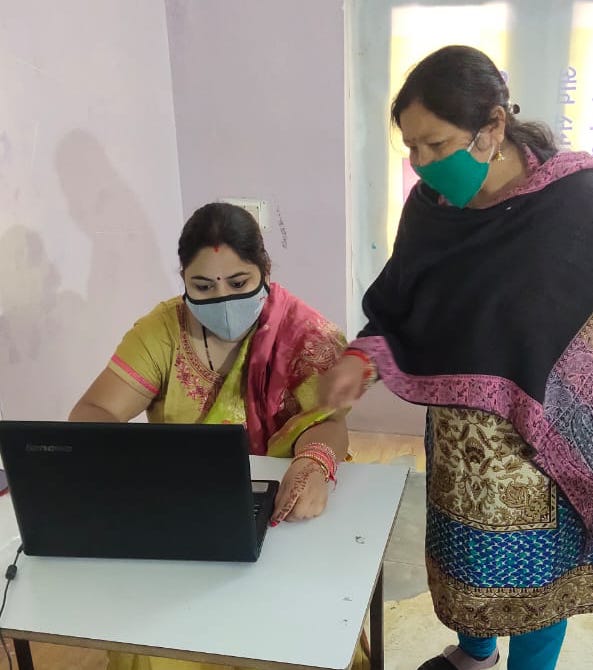 Teacher Alka J: 'In today's world computers are a necessary skill. As times change, we also need to change, and new technology is helping us to do that.'
Beyond the Pandemic: The Indian government recently released their educational plan for the future, which completely changes the education system. We don't know when these plans will take effect, but from past experience we know we will get little to no lead time to implement new requirements, and they may not wait until the pandemic ends. A few of the highlights from the plan are online and in-person required training for teachers, replacing end-of-year exams with monthly testing, more hands-on learning for the children, an emphasis on creativity rather than rote learning, social media training and experience, and coding (which has already been introduced in prestigious schools throughout India). These are much needed changes as the current system is outdated. But the cost to KHEL will be high; we will need a computer lab, science lab, library, and other facilities that we don't currently have. Partially establishing the computer lab now gives us a head start on these requirements.

Teacher Dinesh G: 'We don't have IT supplies at home so preparing homework and teaching has been challenging. Now, we can make study materials and other aids to help our kids.'
We're looking forward to our kids coming back to school so we can share these laptops with them. The world will open up for them in ways that are unpredictable and magnificent, and we can't wait to be part of that. Meanwhile, we will continue to educate our teachers on innovative and creative teaching methods so that when our kids finally do come back to school, we'll be ready to engage them not only in the classroom and on the playing field, but online, too.
(All mask-less photos were taken before the pandemic or in an isolated setting such as someone's home)