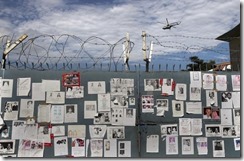 The rains haven't stopped. A rescue helicopter crashed, killing 20 people. Many, many people still need to be evacuated. Swami Veda Bharati has collected over rs7 lakhs (about US$15,000) in the past few days, but much more funding is needed, now and in the future to rebuild homes, re-settle families and repair the extensive damage.
Dhyana Mandiram Trust is a well respected, trustworthy organisation. Any funds you donate will be used to help victims of the disaster who are being cared for by the Himalayan Institute Hospital Trust (HIHT). Please donate!
Photo courtesy of The Hindu. Photos of missing people posted at Jolly Grant, near HIHT.