'You don't have to be privileged to have potential'
Shivani, KHEL Volunteer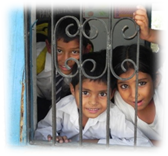 How many children have amazing potential and no means to develop it because of simple, solvable challenges? In some parts of the world, kids are being bombed or kidnapped because they and their families believe in education. At KHEL the threats are, thankfully, less life threatening. But it's no less devastating to a child who wants to get an education and can't because she's menstruating and has no sanitary napkins, or because he has to get a job at 9 years old because his parents are too sick to work. For some children it's as simple a problem as they don't have shoes.
How do we help kids to achieve their potential? Education is the primary means to self improvement and is the most basic service we offer. But, there's no point providing children an education if they're too sick or malnourished to focus on their studies so we also organise health camps, vaccinations and other forms of medical and nutritional support for the kids and their families.
Education isn't just about academics. Through our volunteers and the many visitors to KHEL our kids get the benefit of meeting people from all over the world. In 2014, through the Adolescent Resource Centre, we introduced innovative programs to provide our kids with education for life such as career planning, relationship advice and health and hygiene lessons.
Lakshmi Devi Academy (LDA), KHEL's school for underserved children in Dehradun, India, is more than just a school. It is a gathering space that fosters relationships among diverse groups in a small and densely populated community. Programs like the Buddy Project help the kids to develop empathy for each other from a young age. They learn that, no matter how poor they are, they have something of value to share with someone else.
A fundamental tenet at KHEL is that we help others to help themselves. The embodiment of this idea is a little boy named Akaash who turned up one day at LDA. His mother had passed away; he was lonely and scared while his father, a day labourer, was at work all day. LDA's compassionate teachers gave him books and school supplies so he could study even though his academic skills were rudimentary and he was far behind his 4th grade classmates. Beni, KHEL's General Manager, helped resolve the situation and Akaash is now happily studying and doing quite well.
India is prospering at a rapid rate. There is so much wealth, there's a growing middle class and everyone seems to have a cell phone. Even Shiv Puri Colony, where LDA is located, is more prosperous than ever before.
Children like Akaash remind us that not everyone is prospering and we must continue to help those in need to fulfill their potential.
KINDNESS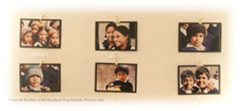 Italian Fundraiser: In October, our dear friends at the Yoga Institute in Florence, Italy, threw a fundraiser for KHEL. Many thanks to Deborah, Ilaria, Cristina and many others who helped to organise and who attended, contributing their time, effort and generous donations to make this a success.
Volunteers: Volunteers are a big part of KHEL. They introduce new ways of thinking to our kids and often share fresh solutions to old challenges with us. We had three pairs of volunteers in 2014 – Shivani and Shruti, Maithili and Abhishek and Shalini and Jared. Shivani is a high school student in NY, USA. Shruti, her cousin, is a journalist in Delhi, India. Maithili is a 3rd year medical student in London, UK, and Abhishek is her younger brother. Shalini and Jared are both college graduates based in the US. The volunteers worked with the kids and the community on several projects, details of which are in the Health and Education sections of this report.
Partnerships: We expanded our medical aid program, necessitating collaboration with other NGO's so that we can continue to serve the KHEL community effectively. We partnered with Sarayu Devi Charitable Trust (SDCT) and Sankalp Foundation Welfare Society (SFWS). Each NGO plays to its strengths – SDCT funds projects and SFWS has medical contacts and expertise. KHEL has children in need, space for medical camps, contacts in a community that trust us and organisational capacity. We also partnered with Adolescent Resource Centre (ARC), a project of Dhyana Mandiram Trust (DMT) to provide a comprehensive health and wellness course to our older students. Details are in the Education section of this report.
Condolences: Our devoted KHEL Board Member, Mr. Ahluwalia, lost his mother, Mrs. Dayal Kaur Ahluwalia. She was a wonderful example to the girls at Guru Nanak Girls' School, where she was Vice Principal. Mrs. Nachundi Devi of Indresh Leprosy Colony passed away in August. As the wife of Indresh's Manager, Ghanshyam, she played an active role in the Colony. Mr. Buddhi Lal, who was responsible for distributing rations to the residents of Rotary Club Leprosy Colony, passed away. Aaron, a long time KHEL supporter and husband of Saraswati, a former LDA teacher, lost his brother, Tim. Kiriti was a kindergartener at LDA. She was sent to a boarding school for 1st grade. While there, she fell and broke her arm. It wasn't properly treated. By the time she was seen by a qualified doctor she had septicemia and died. Although Kiriti was not an LDA student when she passed away, she was still part of the extended KHEL community and we mourn her loss. To all those in the KHEL community who lost someone close to them, we offer our sincere and heartfelt condolences.
OpCamp: KHEL provides a yearly grant to Judy Ann, a teacher at The Blake School in Minneapolis, MN, USA, to take student volunteers to Opportunity Camp in Texas to act as summer counselors to rural underserved children. By giving these young people an opportunity to witness firsthand what real poverty looks like, we hope to engender in them compassion for those less fortunate than themselves, and the capacity to do something about it.

Improvements at LDA: We replaced the mains switch and electrical switch boards which hadn't been updated since 1988.

We added lights to the bathrooms, the stage and some classrooms. We added lighting outside to act as a deterrent to break ins. The cost was INR39,100 (USD630). Water borne diseases such as Typhoid and Malaria are common in Shiv Puri Colony. To help our kids stay healthy, we updated the drinking water system at LDA. The sinks, overhead water tank and water purification system were replaced. The drinking water area was repaired and a lockable grill door was installed. The cost was INR50,000 (USD800). The cost of yearly maintenance is INR4,000 (USD65).
Leprosy Colonies: KHEL provides emergency medical funds as well as monthly rations and medical aid to three leprosy colonies – Ram Mandir, Indresh and Rotary. We also provide aid to a few leprosy patients who don't live in these colonies. The population of these colonies is aging. Before our aid, they begged every day in the city to support themselves. As they get older this becomes more difficult. Thanks to our aid, they don't have to beg as often.
Sweaters for LDA Kids: Mrs. Marwah, President of Sri Kalyan Samiti (a women's welfare society), visited LDA with other women from her society to distribute sweaters to all our school kids.
An Unusual Donation: Mary Bowman-Cline, an artist and yoga teacher from Minnesota, USA, donated a model plastic skeleton to LDA.
Security Issues: Due to a terrorist attack on a school in Peshawar, Pakistan, and continued threats to education across the globe, the local government instituted safety procedures for schools. LDA conforms to many of the new regulations already, and must install certain other measures which we have been asked not to discuss for security reasons.
RTE: The Right to Education Act is, in general, a very good idea but, from the point of view of many schools, it has been poorly implemented. Schools in Dehradun have complained about the slow reimbursement of funds while still having to meet payroll and other running expenses. Since LDA is run on donations rather than tuition, we aren't dependent on fees to meet our expenses. All schools, including LDA, are required to reserve 25% of 1st grade seats for children Below Poverty Level (BPL), from Scheduled Castes (SC) or Other Backward Castes (OBC). These families must prove their status with a government issued ID. Manju, LDA's Headmistress, and Manohar, LDA's Community Outreach Coordinator, attend many meetings with the Education Officer during the school year. Occasionally Beni, KHEL's General Manager, accompanies them. It is our responsibility to make sure we have selected the correct students, that they have the correct ID's and that they have a bank account set up to receive funds directly from the government. This entails coordinating with often illiterate parents, helping them to secure the necessary documents and open a bank account. They don't receive any funds until the end of the year when we submit a report to the Education Office detailing the children's attendance, at which point they're given INR2 (USD0.03) per day of attendance. This means that we cover all those costs anyway, since these families are too poor to pay for the basic necessities of an education, and of course, we don't ask them to pay us back. This costs us about INR100 (USD1.67) per child with 31 children qualifying under RTE. This doesn't include the normal expenses for LDA kids that we cover such as books and uniforms. In 2014 after much persistence, we were reimbursed INR9,720 (USD162). We're pleased about this, since it's the first time we've been reimbursed during the same year these children attended LDA. We still haven't received a reimbursement for 2013.
HEALTH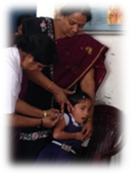 Medical Check Up for Mothers and Young Children: KHEL conducted a medical camp for pregnant women and mothers with young children. Two volunteers, Maithili and Abhishek, assisted. Maithili designed and gave informational sessions on well baby care and pre and post natal care. Thirty-four women attended, which is lower than the usual amount of attendees for our medical camps, due to the monsoons and because this camp targeted a specific group of people. We administered tests for blood pressure, hemoglobin and blood sugar, and took height and weight measurements. The women wanted supplements and medications for simple ailments such as fever, cough, joint pain and general weakness (due to lack of nutrition). We provided well baby care kits for them to take home. The cost was INR20,000 (USD340).

Public Health Camp: We provided a camp for KHEL's students, staff, families of staff and anyone in the community who wanted a general health check up. There were over 600 participants. Portions of this camp were designed to determine if our students were healthy enough for vaccinations.

KHEL's two interns, Shalini and Jared, took part in nearly every aspect of this camp, first in discussions prior to coming to India, and then by assisting at the camp. Dr. Choudhary and Dr. Joshi prescribed medicines and supplements while Sanjeev, Sanjay and Rakhi (from SWFS) distributed them free of charge. Jared, Shalini, Beni and Bhagwat (KHEL's Assistant Manager) administered tests for blood pressure, hemoglobin, blood sugar and checked height and weight. The cost was INR53,000 (USD885).
Medical Aid: KHEL provides aid to individuals on an emergency and case-by-case basis. Rajeshwari, a long time staff member at LDA, needed surgery and several months of paid leave to recover. Manohar's wife also needed surgery. Both women have fully recovered. Savita and Rakesh, two siblings of Rekha who passed away in 2013, are receiving nutritional supplements. During the first vaccination camp one of the 8th grade girls fainted due to low grade malnutrition. We've been giving her Horlicks (Indian malted milk powder fortified with iron) and she's doing much better. A 12th class student who is being supported by us had a dangerous throat infection and had to be hospitalized for a week. The cost of medical aid was INR55,000 (USD920).
Salman: Salman was a student at LDA and is now in high school. He continues to need monthly medical aid for heart medication and transportation to school. He is also on medications for kidney stones as he is too fragile for surgery. Because he will need financial assistance for the rest of his life, funds originally donated for his heart procedure several years ago is held in trust, with only the interest being disbursed. The cost for this support is INR9,000 (USD150).

Leprosy Colonies: KHEL gives aid to three leprosy colonies – Indresh, Ram Mandir and Rotary. Every other month we provide medical aid to supply the dispensary at Ram Mandir, where 34 residents live.
At Indresh there are 14 residents and a few children and grand children of the residents. In the past children didn't live at these colonies as long term exposure to Leprosy isn't healthy for them. But, with better health care and housing available, the children can live with their families rather than sending them to orphanages. We also provide dry rations such as rice and pulses to the three colonies on a monthly basis. On holidays such as Holi and Diwali, we send sweets and gifts to the leprosy colonies so that they, too, have the opportunity to celebrate. The cost for this support is INR6,60,000 (USD11,000).
Hepatitis B Vaccinations: It's been 16 years since we last administered non-government sponsored vaccinations at LDA. We've re-started vaccinations for our kids, staff and their families because severe overcrowding in the community around LDA has increased the risk of illnesses. The community is less migrant so the kids are staying in one place long enough to receive the multiple injections needed for full immunity to some illnesses like Hepatitis B, which is endemic to the area. Jared and Shalini participated in this camp as well. Jared administered vaccinations under the supervision of the vaccination nurse, and Shalini helped organise the camp. Shalini and Jared noticed that there was need for better hygiene, organisation and sensitivity to the children's fear of injections. For the second round of HepB vaccinations KHEL purchased a needle breaking unit to make the needles safe to dispose of, and additional trash cans.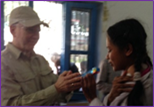 We removed the kids from the part of the school where they can see the vaccinations taking place, helping to reduce their fear. The kids, of course, weren't thrilled that they were getting shots again so we tried to make up for it by giving them chocolate bars after they bravely got their injection. On hand to help distribute chocolate was Randall, a dear friend of KHEL's who has supported our work for many years. The two camps cost INR40,000 (USD680).
Government Health Clinics at LDA: The government of Uttarakhand arranges health clinics at LDA because the school grounds are the largest open area in the community. There are no fixed dates for these camps. They're arranged through the Accredited Social Health Activist (ASHA) Program, a government undertaking in which a local health worker (who is generally called Asha, regardless of what her name is) is tasked with the health care for a small community. Through ASHA, women and children under the age of 5 have regular, free health checkups. Vaccinations given by the government such as Polio, Tetanus, BCG and Measles are administered during larger health camps which are run by doctors and nurses employed by the government. As always, we welcome the opportunity to share our space for the good of the community, and we provide them with water, tea and snacks.
EDUCATION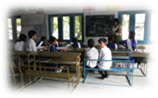 Academics: All 19 of our 8th grade students passed their exams and have gone on to high school. Congratulations to all of them on a job well done!
First Aid Classes: Shivani and Shruti worked with our 6-8th grade students on basic first aid. Shivani is a volunteer 'youth aider' with her local ambulance corps in New York. Shruti worked as Shivani's translator. The kids learned the basics of first aid including washing their hands before cleaning a wound, how to wrap a bandage and what to do in case of shock. The kids decorated boxes to use as at home first aid kits. Shivani and Sh