'You don't have to be privileged to have potential'
Shivani, KHEL Volunteer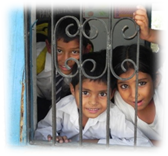 How many children have amazing potential and no means to develop it because of simple, solvable challenges? In some parts of the world, kids are being bombed or kidnapped because they and their families believe in education. At KHEL the threats are, thankfully, less life threatening. But it's no less devastating to a child who wants to get an education and can't because she's menstruating and has no sanitary napkins, or because he has to get a job at 9 years old because his parents are too sick to work. For some children it's as simple a problem as they don't have shoes.
How do we help kids to achieve their potential? Education is the primary means to self improvement and is the most basic service we offer. But, there's no point providing children an education if they're too sick or malnourished to focus on their studies so we also organise health camps, vaccinations and other forms of medical and nutritional support for the kids and their families.
Education isn't just about academics. Through our volunteers and the many visitors to KHEL our kids get the benefit of meeting people from all over