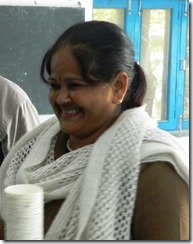 From Stomy and Ammaji – With sorrow in our hearts, we share the tragic news of the untimely death of one of our devoted staff members. Munni Devi worked for KHEL for over 20 years, helping to look after not only our school but our students as well. She was only 46 years old and is survived by three grown daughters, Seema, Rekha and Chanda, and her husband, Puran, as well as many other family members.
A few days ago Munni fell in her home and hit her head. She lost consciousness and her family had to break down a door to reach her. She was taken to a hospital and was seen by two neurosurgeons. It was apparent that her prognosis wasn't good but we immediately put together funds for surgery, just in case the doctors gave the go ahead (thank you, Swami Veda, for offering to cover a large portion of the cost). With her family around her, she was in and out of consciousness for less than a day. Non-relatives weren't allowed in the ICU but Beni, KHEL's General Manager, went anyway to lend his support to the family. In India, you must deposit money with the hospital before they'll treat you. We gave her family the required deposit. During the night she slipped into unconsciousness and didn't wake up again. She passed away peacefully surrounded by her loving family. Beni stayed with them during the day of her passing, helping to arrange for transportation to Haridwar, a Hindu holy city near Dehradun. In one of her moments of consciousness, Munni had asked to be taken there. We joined the family and friends at the 'ghats', a place on the Ganga's banks where cremations are performed. We placed garlands on Munni and said a prayer for her. We were the only women present because her daughters were in a deep state of shock.
We're in shock, too, unable to comprehend the sudden loss of this beautiful lady. Anytime we went to LDA, there she was to welcome us with a sweet smile. We've never lost a KHEL staff member this way. People have moved on to better jobs, marriage, had children and decided to stay home or retired, and we've always been happy for them. But to lose Munni because she slipped, it's unfathomable to us all. We will remember her smiles and cheerful outlook on life.
Rest in peace, Munni Devi. LDA won't be the same without you.