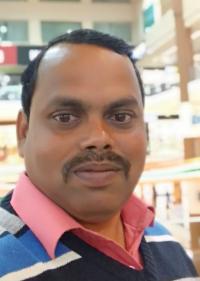 Dinesh, before he got sick.
Dinesh Gupta is one of our senior teachers and was recently promoted to Assistant Principal. On April 29th he was admitted to the hospital. The doctors gave him a 1% chance of survival.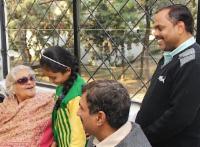 Dinesh's daughter, Pawani, meets Ammaji at LDA
Dinesh is responsible for his wife Vandana, son Harshat (16), daughter Pawani (14), and his mother (his father, an Alzheimer's patient, recently passed away). Vandana is a stay-at-home mother. Dinesh has a brother, Rakesh, and three sisters, Chhaaya, Sadhna, and Neena. All three sisters were students at LDA.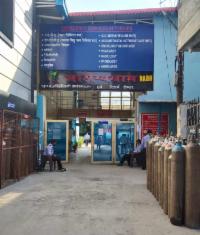 Entrance to the hospital, lined with empty oxygen cylinders
On April 29th Dinesh was hospitalised at Arogya Dham Hospital, a private facility. although KHEL has subsidized medical insurance for all staff only a few hospitals in Dehradun are covered, and they were all full. Beni (our amazing General Manager who is holding everything together at KHEL) and other staff members searched desperately to find Dinesh a bed in any hospital. While they were searching, Dinesh spent 4 hours in an ambulance on oxygen because he couldn't breathe on his own. Finally, our City Councilor, Kamli, found an ICU bed with oxygen (which she also arranged) at ADH.

Indian hospitals don't have payment plans so we immediately started paying for Dinesh's medical care. Because Dinesh's son, Harshat, is so young Beni stayed with him outside the hospital as long as he could but that wasn't sustainable. He finally started staying in touch with Harshat via WhatsApp.

One day Harshat called Beni, crying, to ask what to do because the doctor said Dinesh needed Remdesivir. Indian hospitals don't usually provide medications, only prescriptions. Beni went to several pharmacies and finally found one with Remdesivir. The pharmacy would only give him two doses when the prescription called for six. After another three days, the hospital found the additional four doses for Dinesh. This was when the doctor told us that Dinesh's chance of survival was 1%.
Eventually Dinesh's brother, Rakesh, took over coordinating care from Harshat. With Beni's guidance, Rakesh arranged some funding through other non-profits but those funds are 'one time only' aid. We provided the rest of the funding needed to keep Dinesh in the hospital.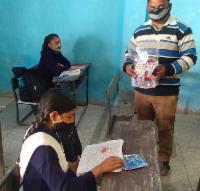 Dinesh was in ICU for two months, on a feeding tube and high flow oxygen. Even before he'd been moved out of the ICU, his doctor discussed sending him home due to the rise in cases of Mucormycosis, commonly known as Black Fungus, in D'Dun hospitals. He'll need a 10 litre oxygen concentrator and BiPap for several month when he goes home. We borrowed a 10 litre oxygen concentrator from a gurudwara (Sikh house of worship). But when the unit was tested with Dinesh's capacity, he was still not able to breathe enough on his own, so had to remain in the hospital until arrangements could be made for him to recover at home.